EU4Business - Advice for Small Businesses programme
Project Description
The "EU4Business - Advice for Small Businesses programme" is the continuation of the "Small Business Support activities in the Eastern Partnership region". It assists small- and medium-sized enterprises (SMEs) in the Eastern Partnership (EaP) countries in improving their competitiveness and ability to attract external financing.

The support is provided through improving the financial literacy of senior managers and by facilitating their firms' access to high quality business support services, enhancing managerial capacity in all areas, and striving to develop the capacity of the local consultancy market to deliver needed services.
Specific Objective
- Provide business advice and industry expertise.
- Support economic transition and enterprise change in viable SMEs in the EaP countries.
- Support DCFTA-related activities in the countries.
- Providing advisory services to SMEs.


Expected Results
- Strengthening local business advisory services.
- Preparing companies for investment.
- Strengthening and improving sustainability of local business advisory services infrastructure.
- Contributing to improved access to finance for SMEs and enhancing competitiveness of the supported SMEs.
Project map
Photo gallery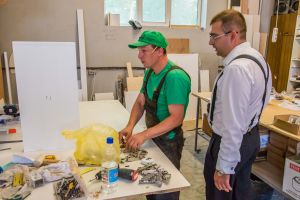 PROJECT DETAILS
Priority Area:
Partnership that creates, Partnership that creates
Subsector:
Economy & trade, Employment and entrepreneurship
EaP Countries:
Armenia, Azerbaijan, Belarus, Georgia, Republic of Moldova, Ukraine
Project Status:
Completed
EU Project Number:
360-798